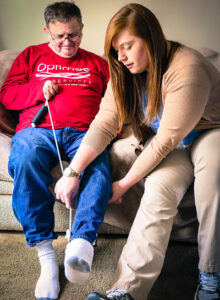 Optimae Rehabilitation Services provides occupational, physical and speech therapy to help individuals gain more independence in their daily life. These services can be provided from our office, the individual's home or within their community.
With a team of highly skilled professionals, Optimae Rehabilitation Services provides holistic treatment that meets the needs of our customers and their families. Services are provided in Polk, Story, Marion, Jasper, Madison, Warren and Dallas counties.
Occupational Therapy: Our occupational therapy services enable individuals to complete routine tasks through the therapeutic use of everyday activities. Occupational therapy interventions help individuals recovering from an injury regain skills and provide supports for aging adults who experience physical and cognitive changes.
Physical Therapy: Physical therapy helps reduce pain and improves or restores mobility for individuals. In many cases, this is achieved without expensive surgery and often reduces the need for long-term use of prescription medications.
Speech Therapy: Speech therapy helps to prevent, assess, diagnose and treat speech, language, social communication, cognitive-communication and swallowing disorders.
More specifically Optimae Rehabilitation Services can help with the following:
Care of others; to include selecting and supervising caregivers
Care of pets
Child Rearing
Communication management
Community mobility
Financial management
Health management and maintenance including coping, stress management and emotional regulation
Home establishment and management
Meal preparation and cleanup
Religious observance
Safety and emergency maintenance
Shopping
Bathing and showering
Bowel and bladder management
Dressing
Eating
Feeding
Functional Mobility
Personal device care (hearing aids, orthotics, adaptive equipment)
Personal hygiene and grooming
Sexual activity
Toilet hygiene
Rest
Sleep
Sleep preparation (bedtime routine)
Sleep participation (sustaining sleep throughout night)
For more information please call (515)979-4117 from 9 a.m. to 5 p.m. Monday through Friday. We are located at 600 East Court Avenue, Suite 120 in Des Moines.