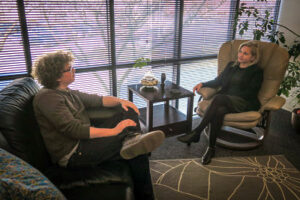 Optimae Behavioral Health Services currently has openings for individual, couples, and family therapy, as well as psychiatric medication evaluation and management. We accept all patients, including those with Medicaid, Medicare and private insurance, with little to no wait time. 
Our therapeutic team partners with customers to achieve their goals related to mental health issues, including anxiety, depression, trauma, anger, relationship problems, behavior problems, personality disorders and chronic mental illness. Our services are based on Optimae's core values of choice, respect, teamwork and education.
Our patients have immediate access to counselors and the ability to schedule more frequent appointments with therapists. We offer services in Central Iowa in Polk, Story, Marion, Jasper and Dallas counties. We also serve Jefferson, Van Buren, Davis, Wapello, Henry, Des Moines and Lee counties in Southeastern Iowa.
Psychiatric Evaluations and Medication Management: These services are available for those who need medication to manage their mental health diagnosis. Our staff consist of psychiatrists, advanced registered nurse practitioners and physician assistants who are licensed to prescribe and monitor medications.
Individual, Family and Group Therapy:  Therapy services are provided for children, adolescents, adults and families who wish to improve their mental health.  Optimae Behavioral Health staff are licensed mental health professionals and use a variety of evidence-based treatment options. These include:
Acceptance and Commitment Therapy (ACT): Acceptance and Commitment Therapy (ACT) is rooted in traditional behavior therapy and cognitive behavior therapy. Through this action-oriented approach to psychotherapy, individuals gain skills in how to top denying, avoiding and struggling with their emotions. Rather, they are able to accept their feelings as appropriate responses to hardships that need not create obstacles to their personal goals.
Cognitive Behavior Therapy (CBT): Cognitive Behavior Therapy helps individuals gain awareness of inaccurate or negative thinking, so they can view challenging situations more clearly and respond more effectively.
Dialectical Behavior Therapy (DBT): Dialectical Behavior Therapy is designed specifically to treat borderline personality disorder. It uses a skill-based approach to teach how to manage emotions, tolerate distress, and improve relationships.
Eye Movement Desensitization and Reprocessing (EMDR): EMDR combines exposure therapy with a series of guided eye movements that help process traumatic memories and change how an individual reacts to them.
Play Therapy: Play Therapy allows children to express their emotions through a self-guided, organic healing process. It is a means of intervention that is well suited to children's brain development.
Trauma Focused CBT (TF-CBT): TF-CBT helps to address a wide range of emotional and behavioral challenges associated with single, multiple and complex trauma experiences. It can be used with children and adolescents impacted by trauma, as well as their parents or caregivers.
Skill Building and Support Services:  Optimae behavioral health also offers skill building and support services at some of its locations. These services help people regain skills lost due to their mental health issues. Support groups are also available in some areas, sometimes at no cost and without any diagnostic requirement.
Intensive Psychiatric Rehabilitation: Intensive Psychiatric Rehabilitation provides individuals with mental illness additional rehabilitation services that aid in their recovery. It helps customers choose where to live, learn, work and socialize, while teaching them the commitment to set goals and giving them the confidence to reach them. Guided by values of choice and self-determination, IPR participants set goals that enhance their lives. They receive support as they reach to fulfill these goals through one-on-one meetings with specially trained IPR practitioners, as well as group sessions. 
Meet our Central Iowa behavioral health team
Meet our Southeastern Iowa behavioral health team
Email us to make an appointment or get more information