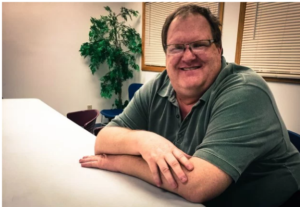 This is part of an ongoing series highlighting individuals' journey with mental illness in an effort to educate others about the disease and fight the stigma attached to it during Mental Health Awareness Month.
At age 20, Brent Deppe had his first mental break.
Then a Central College sophomore, Deppe played basketball and was on track for a degree in political science and systems management. He was good with computers and held down multiple jobs. In high school, he was voted best sense of humor.
"It was a battle," said Deppe, now 47. "I fought for my sanity that summer. It was like I was losing my soul. I couldn't read or write. I didn't know what to eat. I didn't know how to talk. Everything was like a mirage."
Deppe spent more than two weeks in the hospital, where he was diagnosed with Bipolar Schizoaffective Disorder and put on medication. He was in and out of hospitals more than a dozen times.
The medicine would knock Deppe out and he left school. He found himself going to libraries and bookstores where he would look aimlessly for something, although he didn't know what. He lost friends who didn't understand.
"The hardest part is losing your friends," Deppe said. "I didn't fit in with the herd. People didn't understand it. They won't talk to you. They will put you down. They never gave me the time of day."
Deppe's second mental break came five years ago. His mind raced and he would have blackouts, not knowing where he was or how he got there.
"I could barely find my way through the thickness," he said.
He sought help from Optimae LifeServices, where he received support and treatment. He eventually started working there, holding support groups for others with mental illness and disabilities. Keeping his own disease under control is still a struggle, but he finds his work therapeutic. He can talk to the people he works with and lift their mood through his humor. Sometimes, he just lets them vent.
"(Mental illness) has been like a war for me," Deppe said. "I just hope there's a safe landing in the end."